How to: Download Your Favorite Enfold Design After Your Site Installs
Enfold-based websites can be easily customized to look unique and beautiful, and a number of designs are available. Choose one from the extensive list of Enfold demos. The complete design (including images in most cases) can be installed with just one click. Afterwards, it is easy to add your content and build upon it.
Your website can be customized to look and feel different from other sites by changing the default theme styles and settings. Once you are happy with the changes, back up and save your website.
How to Import Your Design
In the WordPress dashboard, navigate to "Enfold" and then to "Theme Options". There, navigate to "Demo Import".
NOTE:  Most of the designs can be imported with all their content. However, for some designs you may need to replace some images due to copyright restrictions.
Also, note that importing demo sites will reset the theme settings.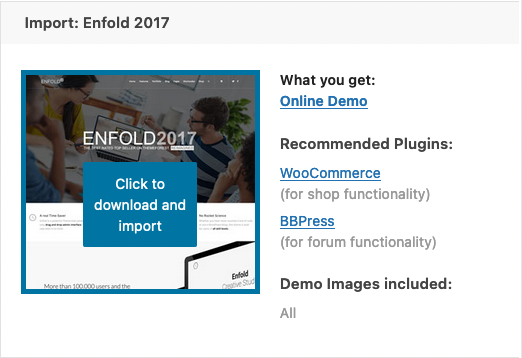 Simply hover on the design you would like to import and click the "Click to download and import" button. The design will be imported within a few minutes.